ATS has revolutionized the way hiring is carried out in fast-paced growth-oriented organizations. You too can benefit from this versatile software solution.
What is an Applicant Tracking System?
In a nutshell, Applicant Tracking System (ATS) is a software that allows companies to manage their recruitment process seamlessly. Using the different interfaces of the ATS, you can source resumes, and manage the subsequent steps (like evaluation, interview scheduling, feedback collection, offer rollouts etc) automatically. An online Applicant Tracking System allows you to save a great deal of time and effort and associated overhead expenses.
The Importance of ATS
These days, business decisions need to be swift and effective. You snooze, you lose. Hiring is an important business decision as well, that involves the assimilation and assessment of a large volume of information. Hence, the best Application Tracking Systems, lately, are AI driven. The seamlessly integrated modules of the ATS allow recruiters to focus on what really matters, and that is to engage with the top talent, understand their fitment to the company's culture and other emotive characteristics. The related mundane aspects are digitized and centralized via the software solution. As per studies, this
Advantages of ATS for Staffing and Recruitment Firms
The tangible and intangible benefits that an online Application Tracking System can offer are numerous. Let us take a look at 5 of the key ones.
Significant Reduction In Administrative Activities
In a matter of a few clicks you can perform a variety of admin tasks like scheduling interviews, follow up emails, list positions on job boards and much more. A study from Gartner shows that at least a quarter of the recruiter's time is spent just on resume screening alone. An ATS frees up a big chunk of your time for other, more important tasks.
Multi-Channel Sourcing
Attracting the best talent has no fixed or standard medium. The sources can be myriad, from online job boards, recruitment partners, social media, employee referral et al. To ensure you do not miss out on the right candidate, the ATS allows you to manage applications from multiple channels, screens them based on pre-created rules and provides you a single holistic view.
Collaborative Hiring
This feature is a lifesaver for the Talent Acquisition team members. This is also a big facilitator in building diverse teams that enrich your organizational culture. No longer do recruitment activities need to be done in sequential steps. ATS software allows for real-time exchange of information among internal stakeholders, including feedback and notes on specific candidate profiles. This helps in getting 360 degree feedback on the applicant's fitment and joint hiring accountability among the different assessors.
Analytics and Reporting
An important aspect of any system software is the ability to provide business insights across a variety of pertinent parameters. Not only does this help in making precise decisions, it also acts as the impetus for tool and/or process improvement. The applicant tracking system software list contains a customizable reporting module that can provide updates regarding pipeline movement, recruitment success rate, sourcing channel efficacy and lots more for metrics that matter to your business.
Candidate Experience
Amongst all the hiring activities, sometimes we tend to overlook the candidate's own experience with the process. Statistics show that 20% of new hires exit within the first 45 days due to a poor onboarding and general experience. With so many companies clamoring for a limited talent pool, candidate experience has become more relevant than ever. Not only does it serve as a means to boost your own brand in the market, it also increases your chances of receiving high quality applications in the future.
Why do you need a system like ATS?
As must be evident by now, an ATS is an integral part of the overall HRMS. Multiple studies report that over 90% of the Fortune 500 companies use an online application tracking system to ensure an efficient end-to-end management of their recruitment process. You may need an ATS too, especially if you are an expanding organization that encounters frequent challenges like:
Need for rapid ramp ups
Hiring for multiple profiles simultaneously
Not satisfied with the quality of applications you are receiving
Unable to make the most out of the various job platforms and portals
Have a host of legacy systems, most of which may require manual interventions
Have different internal stakeholders that need to make collective hiring decisions
Spending too much time in recruitment related admin tasks or repetitive manual activities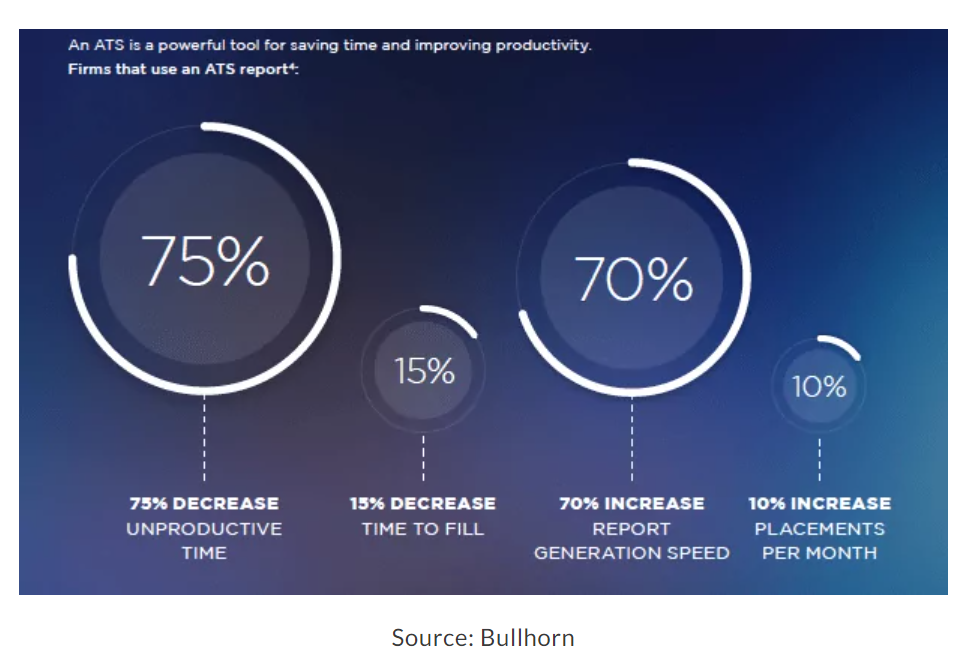 Let's get started
As per Bersin & Associates, a leading talent management research firm, more than 50% of the organizations are using an HR software that is over 7 years old. If you are one of them, then you too can benefit from the data driven decision making and insights that Wise Step can bring to your recruitment process. Whether you manage your hiring inhouse or are a staffing consultancy, Wise Step ATS will empower your recruiters to attract the right talent intelligently, efficiently and productively. Now, you can save several person-hours each week by using our key features, such as:
AI enabled job posting and distribution among platforms
AI powered resume matching
Single click mass mailing for speedy information disbursal
Multi channel access (email, phone, sms)
Real time analytics and business insights through customizable reports
And much more. So, why wait? Let's Get Started